A New Place of Study is Taking Shape
Interdisciplinary, international and digital – these are the keywords characterizing the concept of the University of Technology Nuremberg. On an area covering approx. 37 hectares, a new urban campus university is being built on Brunecker Straße in Nuremberg. The freshly founded University of Technology Nuremberg offers the chance to completely rethink the concept of a university. The aim is to combine and interlink engineering studies with other topics of society. For this purpose, engineering studies and technical sciences will be offered in combination with natural and social sciences as well as humanities.
Besides the outlined interdisciplinary approach, the university will put its emphasis on courses in English, on digitized forms of teaching and learning as well as future-oriented research. In the medium term, the campus university is to provide a place for learning and personal development for up to 6,000 students in the new quarters of Lichtenreuth– on a campus combining learning, teaching and living.
---
University of Technology Nuremberg Presents Plans for First Building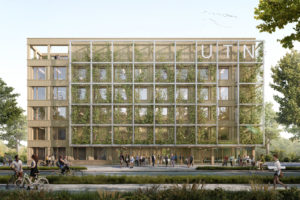 Sustainable, Urban and Embedded: The University of Technology has published plans for the first campus building. The object is characterized by its sustainable design, a flexible concept and swift contract award procedures. »
Prof. Burgard's Lecture for the Series "University Taking Shape": Nuremberg to become one of the best locations for an integrated KI and robotics approach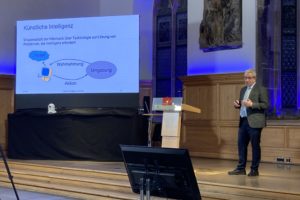 On March 7th, the second lecture of the series "University Taking Shape" was held in the Historic City Hall in Nuremberg. Under the title "Artificial Intelligence and Robotics", which is also the first focus of the Department of Engineering of the University of Technology Nuremberg, Prof. Wolfram Burgard, renowned robotics specialist, eminent authority on artificial intelligence and Founding-Chair of the Department of Engineering at the UTN, gave an insight in the departments' objectives and scope of work. »
Visit to the Max Planck Institute for the Science of Light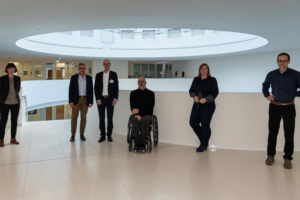 On Feb. 2nd, Prof. Prömel, the Founding President of the University of Technology Nuremberg, met with directors and researchers of the Max Planck Institute for the Science of Light. On the agenda for the meeting in Erlangen were, among other things, future cooperations. »
The University of Technology Nuremberg has Established First Department and Appointed Professor for Artificial Intelligence and Robotics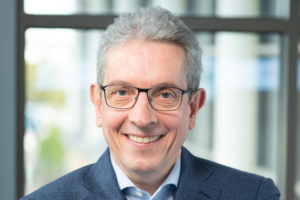 The University of Technology Nuremberg has established its first Department: Prof. Dr. Wolfram Burgard, a renowned expert in the field of artificial intelligence and robotics, will take office on Feb. 1st, 2022 as Founding Chair of the Department of Engineering and Professor for Artificial Intelligence and Robotics. This is a further milestone for the university as regards teaching, research and transfer. »
The First Year of the University of Technology Nuremberg: Founding Process – Concept and Campus Structure Taking Shape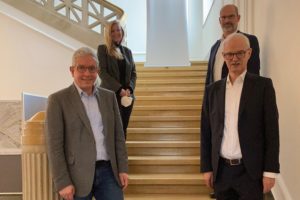 The University of Technology Nuremberg was founded on January 1st, 2021. The founding process is still running at full speed. One year on, the first Vice President for Academic and International Affairs has complemented the founding team, and the first Department Chair has been appointed. Not only the campus, but also the teaching and research concept and the organization and administration are growing day by day. »