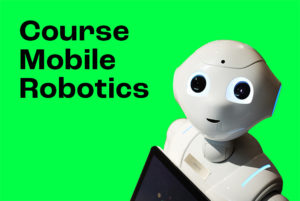 With the course "Mobile Robotics" at Master's level, we intend to offer a new learning experience as a test for future courses at the University of Technology Nuremberg. The course will start with a synchronous online meeting in Zoom, followed by several asynchronous units with individual and group assignments and assessments on a weekly basis.
We will gather data before and after the course and would appreciate constructive feedback from the students to improve the learning experience as we go along. As this is still a prototype course, we would like to emphasize that students may encounter technical or other issues. Of course, we will try to solve them as soon as possible.
Thank you for your interest and your support!
Note: The application deadline for the course was October 20.
Course Details
Instructor: Professor Dr. Wolfram Burgard
Course duration: 8 weeks (it starts on Monday, November 14, 2022, and ends on January 27, 2023.)
Course language: English
Learning-Management-System: Login to Canvas will be sent via email some days before the course starts.
Number of participants: 25 places available
Certificate: The course certificate can be credited under UTN's master program (to start in winter 2023/24).
Formal Requirements
Students who are enrolled in a Master's degree program or who are at the end of their Bachelor degree can submit their application for this course at Master's program level.
In addition, people who want to use the course for career development or to get a glimpse into the topic are welcome to apply. However, please note that the course requires basic knowledge in AI & Robotics such as linear algebra, calculus analysis, programming and data structures.
Questions?
Any further questions? Then, please, send us an email: stars@utn.de
Students accepted to the course will be informed accordingly by November 1, 2022.
Data Privacy: After the start of the course, all data of the applicants who have not received a place will be deleted.